Nioka Mega Son.

2013 Final Public Season. Standing at Stud
On the 31st December, 2013 beautiful stallion "Nioka Mega Son" aka Sonny will no longer be available to outside mares. Centennial Appaloosas have decided to close his book to the public. They will of course still continue to breed their own beautiful mares to Sonny and have progeny available for sale.
CONTACT:
JOHN & ROBYN TWADDLE
Phone: (07) 4066 0183
Mobile: 0408187335
425 Kennedy Creek Road, Kennedy, 4816 QLD
P.O. Box 205, Cardwell, 4849 QLD
2013 Service Fee :- $660.00 includes GST Contract Applies; Vet & Agistment extra.
...........Live Cover only..........
PRODGENY: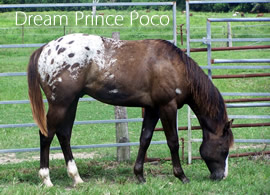 Nioka Mega Son